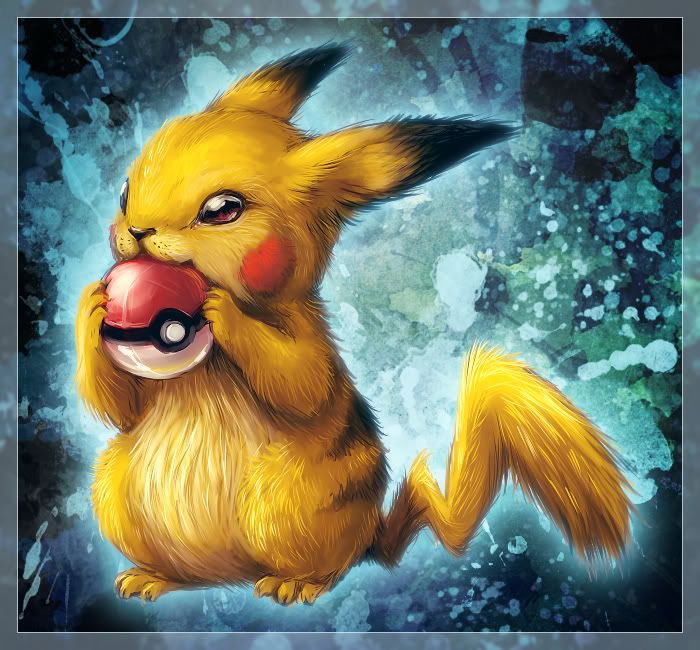 Pokemon has shaped my childhood in more ways than I can count. I never even owned a gameboy until about 6 months ago, but I still collected the cards, loved the TV show, and like everyone else here has been exposed to Pokemon through video games, toys, and commercials.
Many game groups consist, at least in part, of families. Younger siblings or children have been involved in about a quarter of the groups I have played in, and involving them in the game can sometimes be a challenge. To that end, I started "Pikachu! Search for Traps!"

Maybe your party stumbled across a planar rift, and the far side was populated by Pokemon. Pretty much any Pokemon could easily be rationalized into the Dungeons and Dragons universe as the result of arcane experimentation.

Pikachu is the first Pokemon that many fans were exposed to, and today remains a favorite among them. This article will provide a stat block for you to use to include Pikachu in your campaign as either a Familiar, Animal Companion, or Monster.

As a Familiar:
Pikachu Familiar
Clever and intelligent, Pikachu is loyal companion who will stand by you through thick and thin.
Speed: 7
Constant Benefits
You gain a +2 bonus to Diplomacy checks.
You gain resist lightning 5 and resist thunder 5. If you already have resist lightning or thunder, increase that resistance by 2.
Active Benefits
Spark: Once per encounter, you can use Pikachu's space as the origin square for an arcane attack power with the lightning or thunder keyword.

As an Animal Companion: 
Pikachu
Ability Scores:
Strength 14, Constitution 12, Dexterity 16
Intelligence 6, Wisdom 14, Charisma 6
Size: Small
Speed: 8 squares
Defenses:
AC 15 + level, Fortitude 10 + level
Reflex 13 + level, Will 12 + level
Hit Points: 14 + 6 per level
Attack Bonus: Level + 5 
Damage 1d8 (lightning)
Melee Basic Attack: Spark; level + 5 vs AC; 1d8 + Constitution modifier lightning damage.
Trained Skills: Athletics, Acrobatics 

As a Monster:
Pikachu
Small magical beast (Pokemon)
Level 4 Skirmisher XP 175
Initiative +8     Perception +6
HP 48; Bloodied 24
AC 16; Fortitude 16, Reflex 17, Will 15
Immune: thunder, lightning      Vulnerable: 5 acid
Speed 7
Thundershock (standard; at-will) • Thunder, Lightning
Melee or Ranged 10; +9 vs. Fortitude; 1d8 + 6 thunder and lightning damage, and the target is dazed (save ends).
A jolt of electricity is hurled at the target. It may also leave the target dazed.
Thunder (standard; recharge 4+) • Thunder, Lightning
Close burst 3; +9 vs. Fortitude; 2d6 + 3 lightning and thunder damage, and the target is pushed 1 square and dazed (save ends). If this attack hits 3 or more targets, Agility recharges and can be used immediately.
A wicked thunderbolt lashes down from the sky above, dealing damage in an area to targets around the caster.
Agility (move; encounter) • Thunder, Lightning
Pikachu shifts up to 6 squares. If it shifts into an enemy's space, make a Thundershock attack against them. Enemies hit by this attack are blinded (save ends) instead of dazed.
Sparking wildly, Pikachu rushes faster than the eye can see, throwing blinding sparks and shocking foes.
Alignment Neutral Languages: Common, Pokemon
Str 12 (+3)       Dex 18 (+6)   Wis 8 (+1)
Con 14 (+4)   Int 10 (+2)     Cha 15 (+4)
Pikachu is incontestably the most famous Pokemon in the world, probably followed by the first 3 "starter" Pokemon: Bulbasaur, Charmander, and Squirtle. As such, my first four entries in this series will be about those four Pokemon. Check back soon!
For more gaming ideas, rants, or advice, check the rest of my articles at the Dungeon Map.